Why crypto exchanges' proof of assets can't be trusted after FTX collapse
By Dominic Powell
November 25, 2022 — 5.00am
Following the spectacular collapse of once-revered crypto exchange FTX last week, operators around the world have been scrambling to assuage customer concerns and provide proof they actually have clients' funds on their balance sheets.
And while it has helped soothe some turbulence in crypto markets, crypto exchange operator-turned-fund manager Jeff Yew is sceptical, believing while exchanges operate in a regulatory hole, any "proof of reserves" should be taken with a grain of salt.
CEO of Monochrome Asset Management Jeff Yew says the efforts from exchanges to soothe investor concerns over their assets should be taken with a grain of salt.Credit:The Age
Yew was once the local head of major exchange Binance, and now runs crypto investment firm Monochrome. He credits that experience with why he was able to dodge the contagion from FTX's collapse, which he says will shake institutional confidence in crypto for some time yet.
The Age and The Sydney Morning Herald spoke to Yew for our weekly series You, Me and Web3, which aims to examine, challenge and demystify the ideas behind the emerging industry by speaking to the people who live and breathe it.
Having been the former local CEO of Binance, are you surprised by the collapse of FTX last week?
Not really. Our team knew FTX had signs of weakness as part of a diligence process we had conducted in the past. This also means Monochrome had no exposure to FTX, nor did we engage with any counterparties who had FTX exposure.
Being in the financial services space gave us the advantage of having robust due diligence processes and risk management practices. That, on top of my personal experience with the crypto exchange landscape, we knew exactly where and what to look out for.
In your view, was the collapse an issue with FTX or Sam Bankman-Fried's behaviour, or a failure of regulation?
The FTX collapse is a story of a company that chose to operate outside existing regulations while claiming to customers that they were regulated. The bankruptcy documents revealed a serious lack of accountability and risk control failures within SBF's fallen empire.
This is the problem when it comes to unregulated platforms – the disclosure requirements to the customers are not as strongly governed as regulated financial products like a managed fund or ETF.
We have experienced a few catastrophic system failures within the unregulated crypto markets which will see more enforcement actions on companies that were obviously skirting around regulation.

Jeff Yew
We've taken an opposite approach – that crypto assets have risks and unique traits that must be considered by product issuers and market operators to meet existing regulatory obligations and protect investors.
Do you think there's such a thing as a 'trustworthy' crypto exchange currently?
The real concern is that consumers are taught to rely on trusting the word of unregulated crypto trading platforms in the first place. Like most countries, crypto trading platforms and brokerages in Australia are not regulated. Altcoins trading on unregulated crypto platforms have the same regulatory legitimacy, or lack thereof, as items trading on Facebook Marketplace.
An actual "exchange" is one that operates a financial market, such as the ASX which is required to hold an Australian market licence. The thing about regulated financial products is that they are required by law to adhere to the various investor protection frameworks, such as transparent disclosures, custody laws, compensation and dispute resolution schemes, which are underpinned by strict regulation to protect consumers.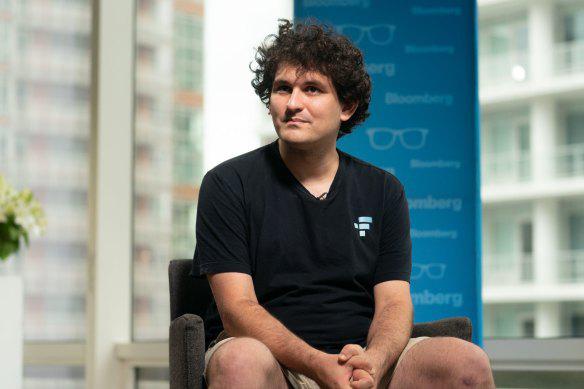 Sam Bankman-Fried, founder and chief executive officer of FTX.Credit:Bloomberg
Following the FTX collapse, exchanges everywhere are trying to soothe investor concerns by providing proof of their reserves. Do you think this proof can be trusted?
Not quite, especially for those who operate outside the boundaries of regulation. Because there is no regulatory guide to adhere to, every player seems to have a different way to bridge that trust gap.
However, the larger problem is because they are unregulated, these crypto trading platforms don't and cannot provide full legal ownership of the asset to their customers.
This is more so critical for holdings that have specific legal requirements such as a self-managed super fund (SMSF). Storing cryptocurrency on crypto trading platforms could put the trustees' obligation to ensure absolute entitlement to the asset at risk.
Strictly speaking, very few unitised crypto-asset financial products in the market could satisfy that legal requirement in Australia. The collapse of FTX has just sent a rude awakening to SMSF auditors, and they will have till the end of the financial year to sort this out with SMSF trustees.
Do you think the collapse will shake institutional confidence?
Yes, and it will continue to. We've seen that institutional investors are becoming aware of the distinction between bitcoin's role as an emerging digital monetary asset versus the tech-driven crypto industry. Both categories have different risks but are commonly misunderstood – bitcoin competes as money, whereas crypto competes as tech.
Although bitcoin's current high volatility and dropping price might be a deterrent to some investors, I've started to see sophisticated and seasoned investors managing that by either having appropriately sized positions, or adopting a disciplined rebalancing strategy.
It is important to remember bitcoin as a network remains unfazed by the failures in the crypto industry to date, as the digital protocol doesn't rely on human intervention at all. Over time, I think more and more investors will acknowledge this.
This week ASIC took legal action against Block Earner for allegedly providing financial products without the proper licence. Do you expect we'll see more cases like?
ASIC has made clear that crypto is an enforcement priority for 2023, and we have experienced a few catastrophic system failures within the unregulated crypto markets which will mean more enforcement actions on companies that were obviously skirting around regulation while portraying that they were safe or under license.
How do you make sure you avoid these sorts of collapses when investing through Monochrome?
For a start, Monochrome is not a crypto trading platform. We are a licensed investment management firm offering investors regulated access to crypto assets in the form of traditional financial products. Our fund is professionally managed under an Australian financial services licence, and assets are secured by a licensed custodian.
With the various issues and coming regulatory challenges facing crypto trading platforms, we want to set an example on how product issuers and market operators can meet existing regulatory obligations when it comes to crypto.
It's no secret that we are working on getting a retail crypto fund to the market. I think that would be a monumental milestone for the Australian crypto and also the financial services industry. The concerns of further contagion among unregulated crypto players has put our launch strategy into a holding pattern. We want to get things absolutely right, not rush to be the first or the cheapest product in the market.
The Business Briefing newsletter delivers major stories, exclusive coverage and expert opinion. Sign up to get it every weekday morning.
Thank you for reading the Herald. This article is complimentary.
Register or log in now to read more articles and unlock extra benefits.
No payment required
or
Email address
By continuing, you agree to your personal information being collected under our privacy policy and accept our terms of use.
负责声明:转载此文为传递更多市场信息,不代表蜜蜂查的观点和立场,请自行参考。